ABOUT BEST SAND AND GRAVEL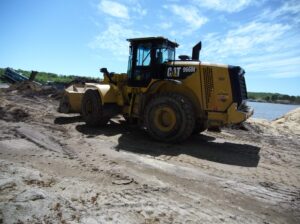 Best Sand & Gravel, Inc. was founded in 1969 by Gordon Best. In the beginning, we were a small sand and gravel operation that delivered materials to local farmers, contractors, and residential areas.
In 1972, Gordon incorporated the company and was soon joined in the business by his son, Tom. Gordon saw that Tom learned every aspect of the business, from washing the sand to delivering the material to the various sites. After researching the market, they recognized the potential for growth and the company evolved into the grading business. They began clearing land, grading and getting involved in site development projects.
Today Best Sand & Gravel, Inc. has a large fleet of late-model dump trucks, several mining locations, and a wide variety of heavy equipment serving all of North Carolina and parts of Virginia and South Carolina. We are fortunate to have hard-working skilled operators and laborers on our side, who share our vision of respect and excellent customer service.